Wedding Albums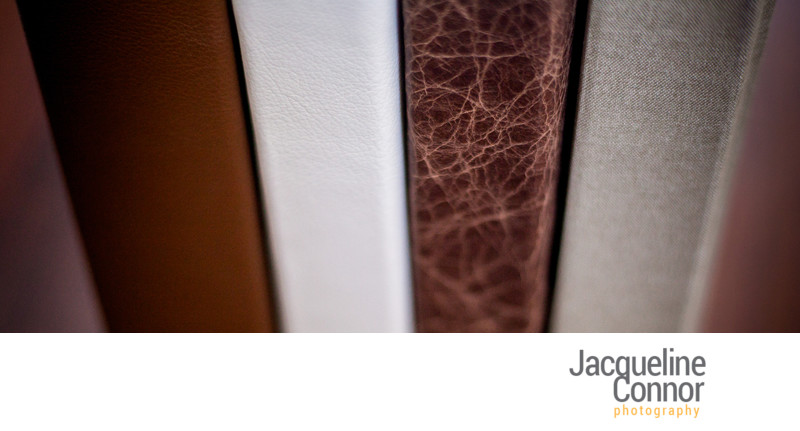 A wedding album is an heirloom, one of the first for your new family. It is something tangible not only for you to look back on, but for generations to pull out of a box and treasure. They will be able to see how you lived and loved, and be amazed by where they came from. People climb through attics, and run back into burning houses for these books -- they are among people's most important possessions

One of my most treasured items in the world, is my late grandmother's wedding album from 1956. I am forever grateful to their photographer for letting me see who they were at that moment. I get to see the look on my grandfathers face when he saw her walk down that aisle, or the "You better not put that cake in my face" look from my grandmother. I cannot wait to show my future family the way they laughed, and how in love they were.
In a time of social media and keeping your photographs on a flash drive, an album is something to hold. It is something that will outlast you, and be treasured for years to come.
Does every package come with an album?
No, but albums are always available a la carte to any package.
Can I purchase it after the wedding?
Of course, you can come back three years down the road to purchase an album. However, there is a package discount included and I can only guarantee album prices for the rest of that calendar year.
What images go in it?
Your album is yours, so you are able to choose the up to 65 images that go in it. You will be provided with a form to help you choose, but we work together to create the perfect, custom album for you.
Can I see it before it goes to print?
Absolutely, nothing goes to print without your approval. After you send in your selections, you will receive a digital design within two weeks where you can see each layout, page by page and make comments. You will be able to go through rounds of changes until we reach exactly what you want. Examples of this can be found here, feel free to flip through them. The password to all samples is 1234.
How is this different from photo books I can order myself?
Beyond the custom design, the books you would receive are of the highest quality available in the industry. The albums are only available to professional photographers, and are all impeccably hand-made, with thick pages and custom covers. If well cared for, they will remain in pristine condition when your great-grandchildren pull them out of a box 50+ years from now.
Do you have parent albums?
Of course! They are the same-style album as above, just 8x8 inches instead of 8x10. They hold up to 45 images, and are custom made for each set of parents. Parent albums do not have the be duplicates of the wedding album, they can choose their own photographs.