About Jackie
So you're about to spend an entire day with a virtual stranger, what if she is a jerk? (I pinky promise I'm not).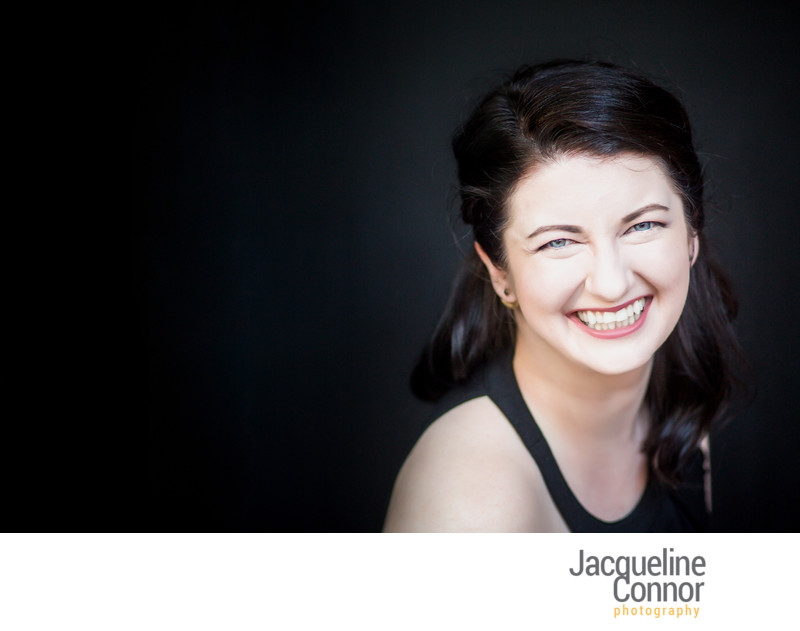 This is the part where I'm supposed to talk about how I just LOVE love, and how I live in leggings, and you can always find me with a perfectly coordinated coffee mug. I mean 2/3 of those things are correct (I have tried for close to a decade, I can't drink coffee), but those aren't the things you care about.
I have spent my life thus far driven by many things -- dance, theater, writing, art, documentary photography, and weddings. They have always led back to one thing: people and their stories.
After entirely too many years stuffed into pointe shoes with a camera in the stage wings documenting my first love, I attended the photojournalism program at Rochester Institute of Technology. Four years (and maybe a few bourbons) later, I made my way into newspapers down in New York.
Two apartments, two dogs, a husband, and a 300+ mile move landed me in Buffalo, New York where I have brought that documentary background to weddings. Five Buffalo winters later (I swear the patron saint of Buffalo should be instacart), I am forever grateful for being able to be welcomed into so many extraordinary lives here.
So cool, that's the photo part. What about the you part?
On any given day, I am generally snuggled up (yes in leggings, yes they are real pants) with my dog, Ellie. She is a pit mix that looks like a cross between Batman and a gremlin in the best possible way, and along with my husband, she is one of the great loves of my life. Yes, I am that dog person. Yes, I am entirely okay with it. Do you not have an oil painting of your dog as a general over your fireplace?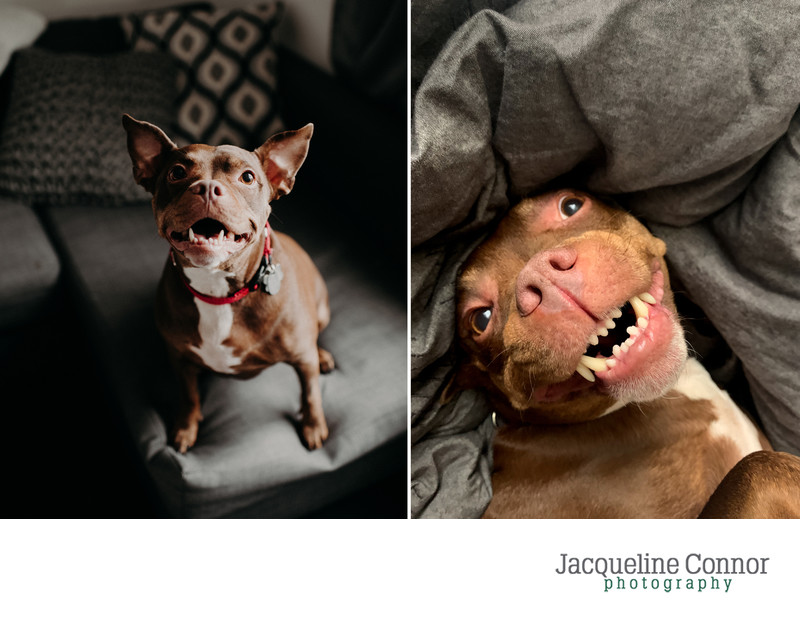 Ellie on a put together day vs. Ellie in daily life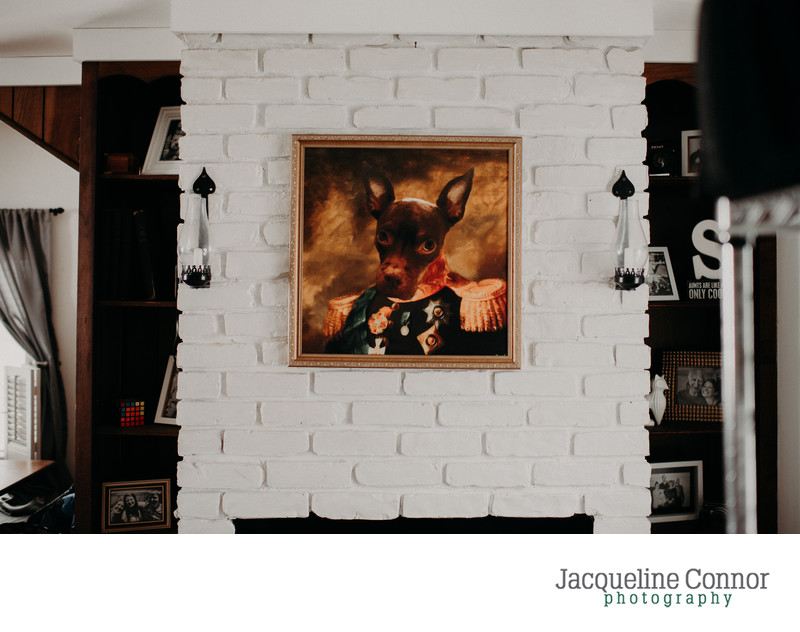 I love seeing the reactions when they realize it's our dog, not an actual general
Beyond that, I love living life. That means spending entirely too much time caring for my jungle of house plants (75 in a two bedroom apartment, yes my husband is a saint), dancing around the room while singing far too loud (sorry downstairs neighbor), and a good bourbon (neat, always neat). My annual budget includes a line for broadway, and I can recite most of the book from a multitude of shows. I have an affinity for terribly cliche dance movies, and books that you can get completely lost in. If you want me to never stop talking, just bring up Harry Potter or Game of Thrones.
I'm a begrudging Hufflepuff (I took the test 4 times, including with the email "iamnotahuffpuff99"), but it's okay. We are loyal and unafraid to toil, plus badgers are badass.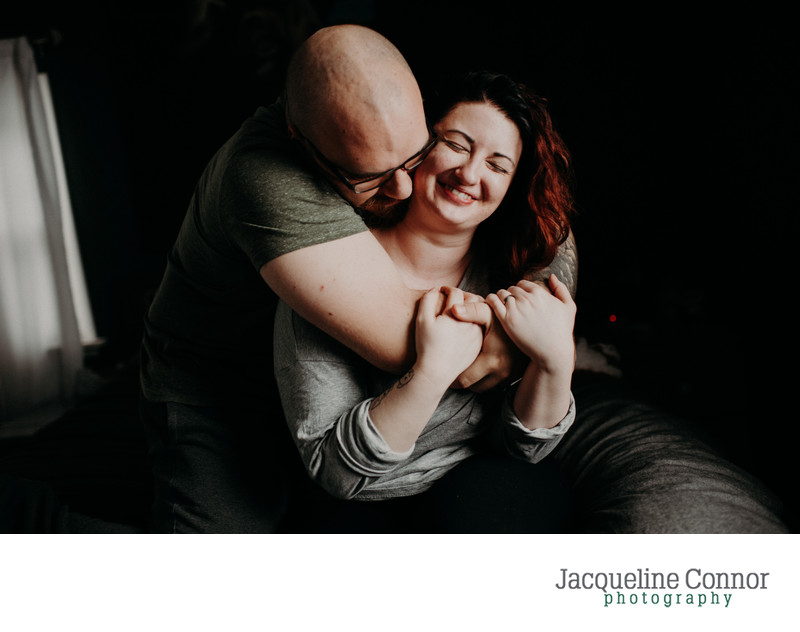 I've been fortunate to be surrounded by an extraordinary family - both the one I was born into and the one that was chosen. This means an uncanny ability to make delicious food in large quantities, talk loud enough to be heard over crowds, master the art of board game trash-talk, and not being phased by any amount of chaos.
Their powerful voices have led me to social advocacy, and that is something I have unapologetically woven throughout every aspect of my business and life. Between yearly charity sessions (keep an eye out for them every July), aligning with organizations that break through glass ceilings, and advocating for inclusion both locally and within the world at large, it is something I am deeply dedicated to.
Above all, I would love to learn more about what makes you who you are. Let's meet up to find out how we can tell your story; I would love to be a part of it.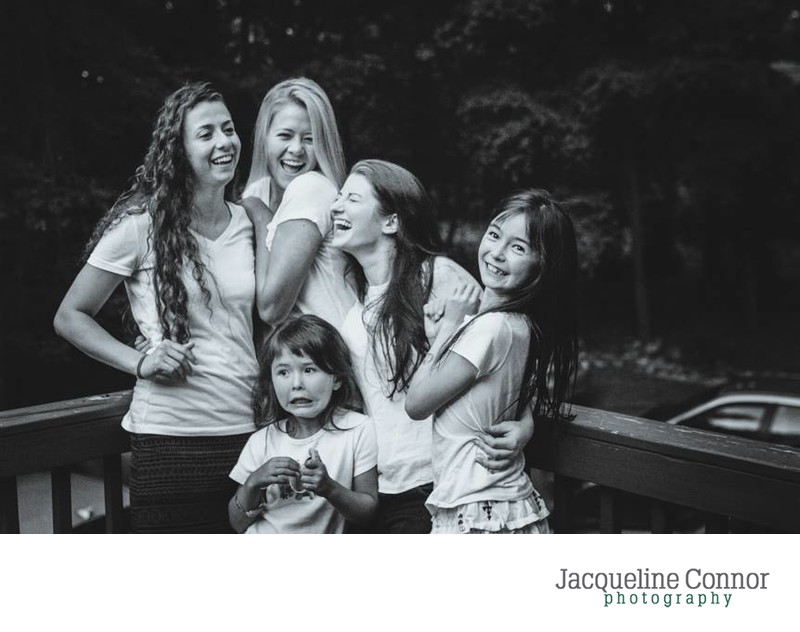 A tiny drop of said crazy family.
So how do you fit into the industry?
Photography has led me on a crazy journey: everything from covering national news, to working with major publications, speaking at conferences and winning international photo competitions. I've had the opportunity to photograph all walks of life, ranging from US senators and So You Think You Can Dance stars to rising theater actors and to some spectacular humans that live right next door. I am extraordinarily grateful for every single wild second of it.
It's an honor to have been featured in the following: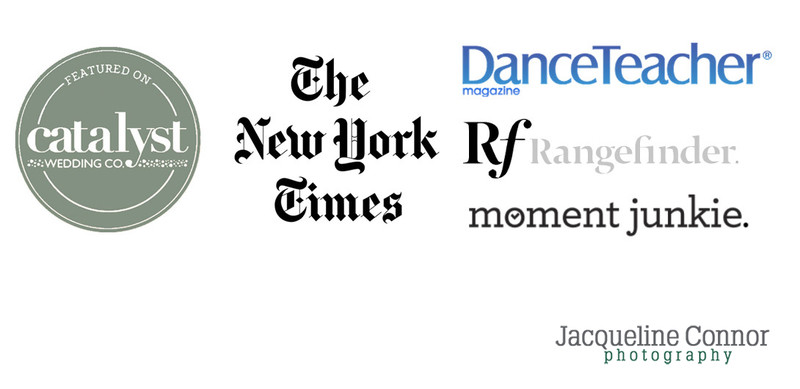 All professional photos by Kevin Lowery, or my husband (after being coerced with the promise of tacos).