Bespoke Artwork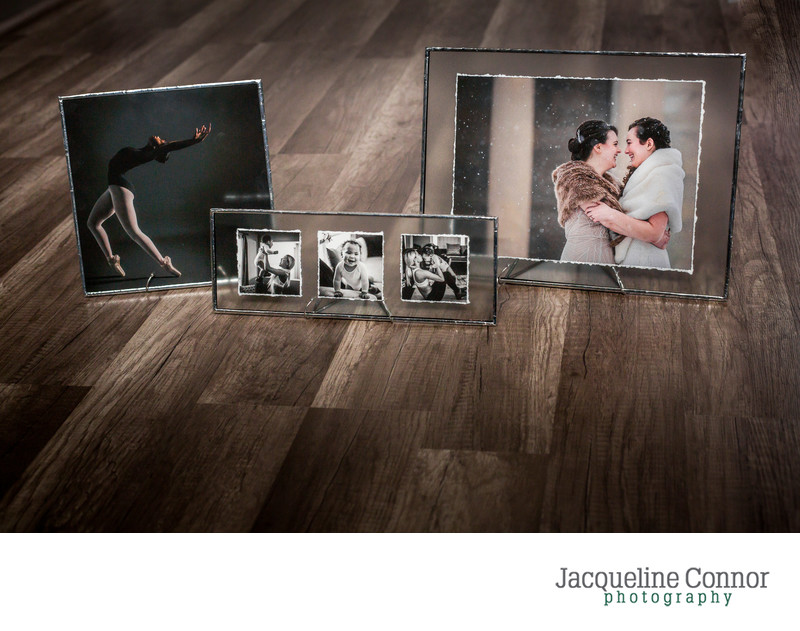 It is so easy to let your images live on the internet or a flash drive; I'm just as guilty with my own personal photographs. Your wedding day is over, life is happening, and those files are relegated to popping up in your Facebook memories. Instead of seeing them once a year when they pop up, let's get them off of those screens and into your daily lives.

Canvas and Wall Art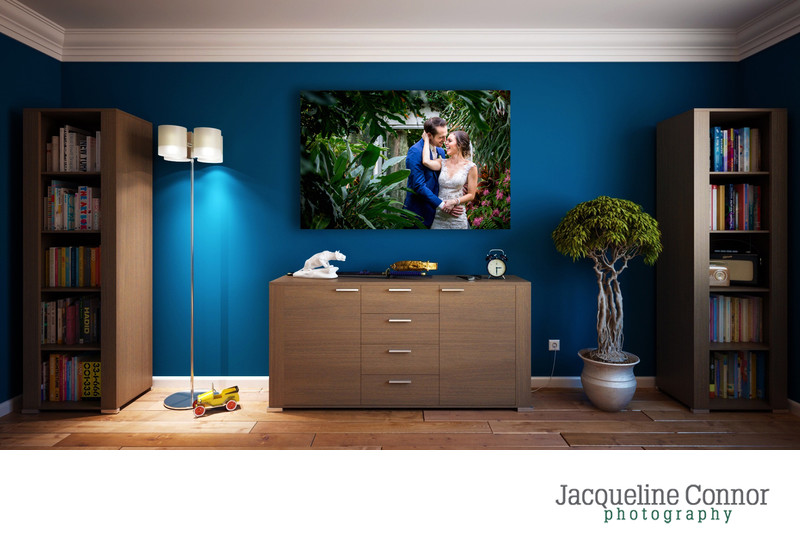 There is a feeling that you get when you are looking through your wedding photographs. Those images tell a story of one of the most momentous days in your lives together thus far. As the day-to-day life starts to trickle in, it's easy to lose sight of how thrilling it was to see your partner for the first time, or that "oh my god we are actually married" moment. You can pull out your wedding album and look through images, or listen to a song that brings you back to that day, but those all take going out of your way to transport you back to those emotions.

Why not let those moments always exist within your home? Wall art allows you to glance up and see your partners face as you exchange your vows, and to see how excited your best friend was to belt it out to the song you closed bars with in college. When you come home after a particularly exhausting day at work, you can open the door to your partner's dance move that is reserved for when they might have had a drink too many.

Wall art enables you to be transported back to your wedding day on a regular basis. Those instances will always live around you without you searching through files to look for it.
Isn't an 8x10 big enough? A 11x14" canvas is enormous!
Compared to a 4x6, yes it is large but once you get it onto your actual wall a 11x14" print looks quite small. The image above features a 60x40" print to make a dramatic statement and fill the room with a tangible impression of Sam and Korey's laughter.
I saw this great deal on Groupon/Shutterfly/Snapfish for canvases. Are these the same thing?
While you will be able to find great deals for wall art on sites like that, it's a very different product than what I have access to as a professional. All of my canvases and prints are printed on the highest quality materials and feature immaculate craftsmanship. They are archival and will look just as beautiful on the wall of generations down the road as they do over your mantle.
All of this is super overwhelming; I have no idea where to start.
That is exactly what I am here for, never hesitate to use me as a resource. Come on into the studio, and we can select the images that best showcase how you want to feel when you enter your home. Bring in images of your blank walls, and we can pick the perfect sizes, groupings, and types of wall art for your space.
Soldered Art
The experience at Jacqueline Connor Photography is unique, so I sought out finding an extraordinary line of products that are as exceptional quality as your images are.

All soldered art is hand-created in an artisanal studio in Chicago and features the highest quality materials available. Each piece is permanently sealed and soldered by hand with UV protectant glass meant to last for generations.
Heirloom Print Box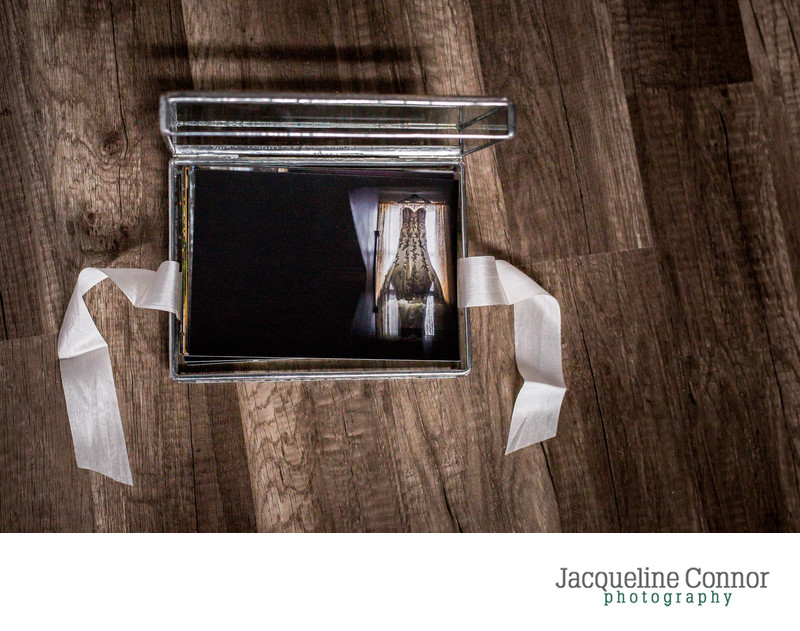 If you are looking for a unique way to display your wedding images, the heirloom print box is the perfect fit for you. It's a 5x7 hand-cut print box featuring UV protectant glass and hand-soldered edges. A set of 30 fine-art prints that feature your favorite images lies on a silk ribbon for easy use. Instead of flipping through a book, you can make your way through prints for a more nostalgic experience that takes you through your wedding day in a much different way than a traditional book.


Soldered Float and Solid Frames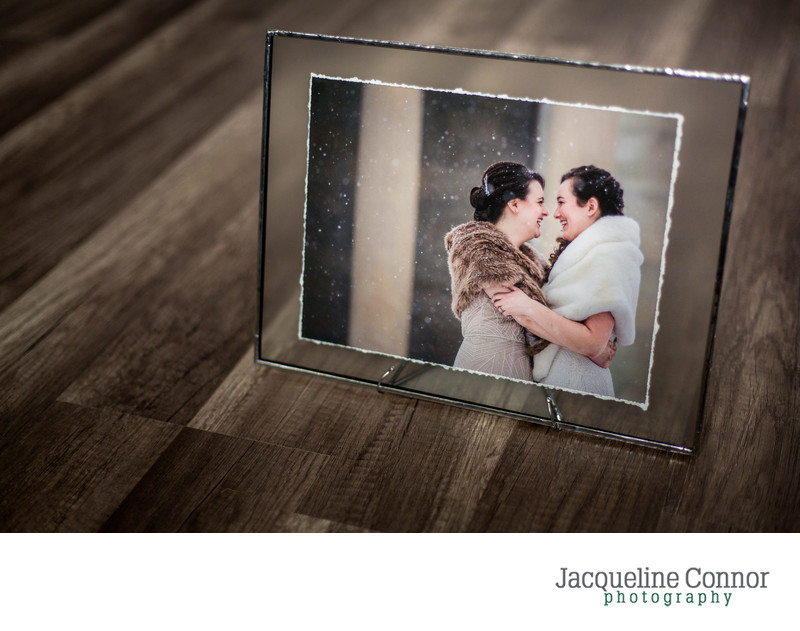 Our soldered frames are the standards within our bespoke collection. They feature fine-art giclée prints mounted between a matte, UV protected glass with hand-soldered edges. They are available in both typical and customizable sizes that are as unique as you can think up. These thick frames are held up by a glass, soldered easel of equal quality that is the perfect accent for any modern home.
Soldered Trio Frame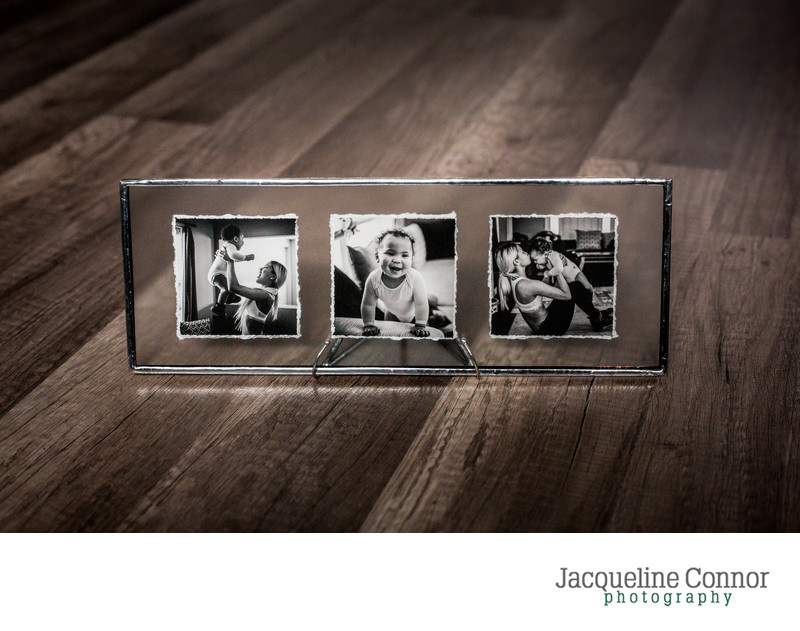 The Trio Soldered Float Frame is a truly unique art piece that is the perfect size for your desk or shelf. It is a 11x4" inch float frame featuring soldered metal edges and 3 4" square art prints. The prints are double-sided so that you can choose either six images total or a quote for the opposite side. As the rest of your experience has been, it's customizable to be the best fit for your home.
Is all of this super overwhelming? Let me know! We can set up an appointment for you to come into the studio and I will walk you through every step of the process.