The Connor-Stevenson Wedding
The Connor-Stevenson Wedding
How to plan your own wedding when you see 30+ a year...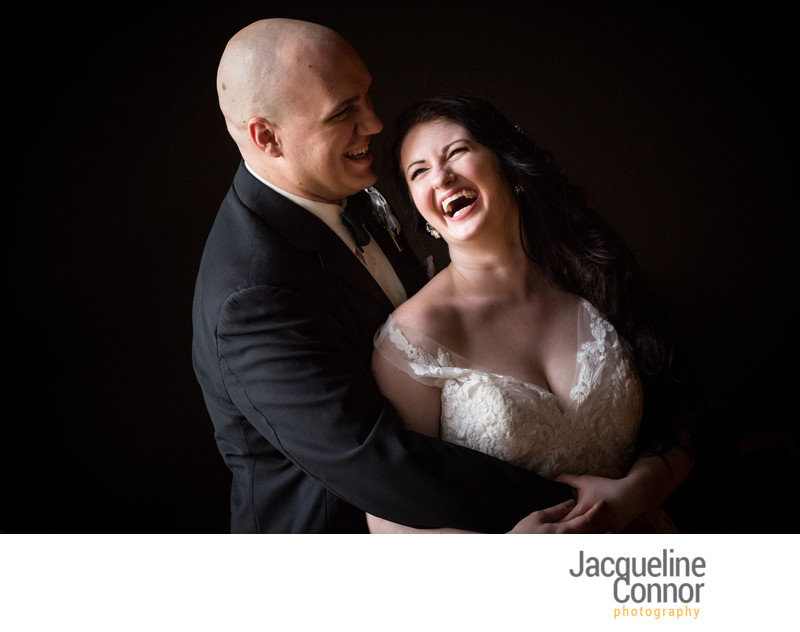 In 2015, I woke up to my then-boyfriend on his knee in a full suit holding a ring. He had taken a half day on our 1000th day of dating, and asked me to spend the rest of our lives together (naturally, I had just woken up at his "half-day" mark so I was crying in pajamas). Like the completely logical people we were, we decided on a June 2017 wedding and started planning right away.

We knew what we wanted, and what we didn't. We wanted to be married by our favorite people, and a damn good party to celebrate. Our goal was for it to be unique, without being weird for the sake of being weird. Along the way, we learned a lot (spoiler alert: leave enough time if you're going to DIY your entire wedding), and had a wonderful wedding day that was completely reflective of who we are.


What Jackie Loved:
Heirloom details - My late grandmother was unable to be with us for our wedding day, and I could not have imagined getting married without her (it was hands-down the hardest part of this process). We wanted her represented there, without it being a memorial. As her wedding dress did not come up past my knees, wearing her dress was out of the question. I contacted a local designer to create heirloom items out of her wedding dress. My sash and comb were made out of her dress and jewelry, plus additional gifts for my family members.
First look with dad - while we opted out of a first look (it would not have felt like us), I loved having a first look with my father. He is incredibly dear to me, and I will never forget the look on his face.
Our ceremony - Brian and I wanted a light-hearted and sentimental ceremony that reflected who we are. We are not particularly serious people, and it would have been weird to have formal ceremony (for reference, Brian whipped out a wand to start his vows with "I solemnly swear I'm up to no good") We were married by two people, we each chose a person who has been instrumental in our lives. It could not have been more perfect.
Dancing all night long - For anyone that knows me, I am unabashedly "that person" at weddings. I will dance to anything and everything without shame, and our wedding day was no exception. I think I left the dance floor for two songs the entire night, and that was only to cool down.
Having everyone in one place - I have a HUGE family, that I love very much (not even in an "I only see you on holidays kind of way"), and friends that are spread out all over the country. Since we could not find a convenient place for both of our families, we had everyone travel to us in Buffalo. From childhood friends to college drinking buddies, we all celebrated together


Oh I guess marrying my best friend of 5 years was pretty awesome too...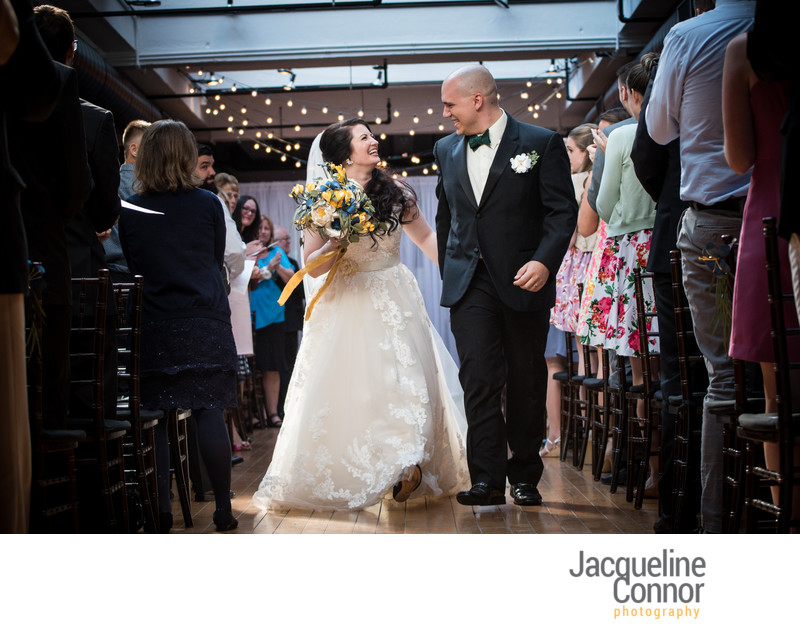 What Brian Loved:
Sentimental gifts - We lost my best friend, and would-be second best man to cancer in 2014. Jackie and I tried to find a way to include his memory without making it a memorial, and we settled on including him in our programs. His fiancé (also a dear friend), had a pocket square embroidered with his favorite quote and left it as a gift that morning. There could not have been a better way to have him there with us.
Getting ready - Jackie says this happens with most weddings, but only my brother and I knew how to tie a bowtie. The morning consisted of us trying everyone's bowties, and laughing our way through (bonus points: there were no youtube videos involved)
The ceremony - I will never forget what dancing back down the aisle with Jackie felt like. We have been together for so long, that it was a culmination of years of love. Oh, and she almost fell over laughing when I whipped out the Harry Potter wand I stole from her wall. Yes, she already owned one.

Sweaty dancing - I also love to dance, and danced the whole wedding long. While I have never been sweatier in my entire life, I've also probably never has as much fun. (sorry again to those that hugged me at the end of the night)

After it was all over - Jackie's incredible hair apparently involved a lot of extensions (I'm still not 100% sure what those are). I will never forget sitting on the floor of our hotel bathroom for at least an hour pulling the hundreds of pins out of her hair. It was a hysterical way to end the night

What we Learned:
Building the Budget
Do this: figure out what you value the most, and invest your money there
Not that: base your budget off of your friend's/cousin's/parent's wedding or what they say on the internet

When structuring our budget, we made a list of the things that were most important to us and built our budget around that. Being a wedding photographer, photography was very important to me. We actually contacted our photographer before booking anything else, to ensure the rest of our vendors and venue could fit in with her price. We hired exactly who we wanted, and even though it cost more than the average photographer, the images and service we received were worth every penny and more. We have photo heirlooms that will far outlive us.


Our other vendors were laid out in order of what we valued. We really cared about our guests having a great time, and since everyone was coming from out of town we wanted to show them a true slice of Buffalo. We had a custom buffalo-style bar menu from Peal Street (Charlie, the coordinator, is an actual angel), and our guests enjoyed an open bar. As beautiful as flowers are, it was not something we were willing to invest money in. Instead, I made thousands of paper flowers -- along with the rest of the decor. That allowed us the budgetary room to fit in the things we wanted.


DIY Projects
Do this:
pick your DIY projects wisely
Not that: cram all of your DIY projects into the month before your wedding


As anyone who knows me can attest, I love making things. I have an entire craft closet, and love all forms of art. As we had two years to do everything, my immediate reaction was "Oh I can TOTALLY make all of this."

Well yes, I could and did make of all of it. However, the last month of wedding planning would have been far less stressful without paper flowers. It came out beautiful, and I am thrilled we did them, I just wish I started earlier. The month of June was filled with papercuts, scraps of paper, hot-glue gun burns, and lots of bourbon.

DIY projects are fantastic, and a wonderful way to customize your wedding day so that it reflects both who you are as individuals, and your relationship together. Just be realistic with your time, it will lead to a much smoother wedding planning process.



Let Your Wedding Reflect You
Do this: allow your wedding day do fit who you both are
Not that: let the internet/your friend/your aunt/the high school friend you haven't spoken to in 10 years dictate what your wedding "should be"

From the very start, Brian and I knew we wanted our wedding to be low-key. We are very relaxed people, whose lives involve a lot of Netflix, our dog, and beer. We wanted our wedding day to be a reflection of who we are.

For our ceremony, we each chose someone that has been hugely influential in our lives (my cousin, his uncle), and wrote a funny ceremony script that made sense for who we are. There were references to Game of Thrones, Harry Potter, and Star Wars, and our guests had beer for the ceremony. We laughed, and lived completely in the moment with those we loved the most.

Did we originally receive some push-back from family members on our off-beat wedding? Absolutely. However, those were the first people that came up to us post-ceremony and all they could do was rave about how wonderful it was.
| | |
| --- | --- |
| | |
Doing Things "For a Photo"
Do this:
have your photographs be exactly what you want them to be
Not that: waste time on things you don't really want because Pinterest says your photos won't be good without them


There are so many things to get caught up in while planning a wedding that it's easy to forget what you actually want. From the start, people continuously asked us if we were doing a first look then hours of portraits. "Oh you are going to have such gorgeous portraits! What locations will you be going to?" was a frequent question from photographer friends.

The answer was no to all of the above. We wanted our wedding day to be about enjoying each other and our guests. We did not want to be away from them taking photographs for ages. We skipped the first look, and had that incredible moment walking down the aisle. After spending maybe 15 minutes taking our family and bridal party photos, we walked around Lafayette Square for 20 minutes tops for our portraits. Our goddess of a wedding photographer had us laughing, and made images that we will treasure for the rest of our lives while still allowing us to enjoy our day. It was exactly what we wanted.

Photography is there to compliment your wedding day, not take over the entire thing. It's wonderful to do things like a first look, sparkler exits, gifts and matching robes. However, don't feel the need to do them if it is not actually what you want to do. It's not going to make or break your wedding images if that isn't what you want to do.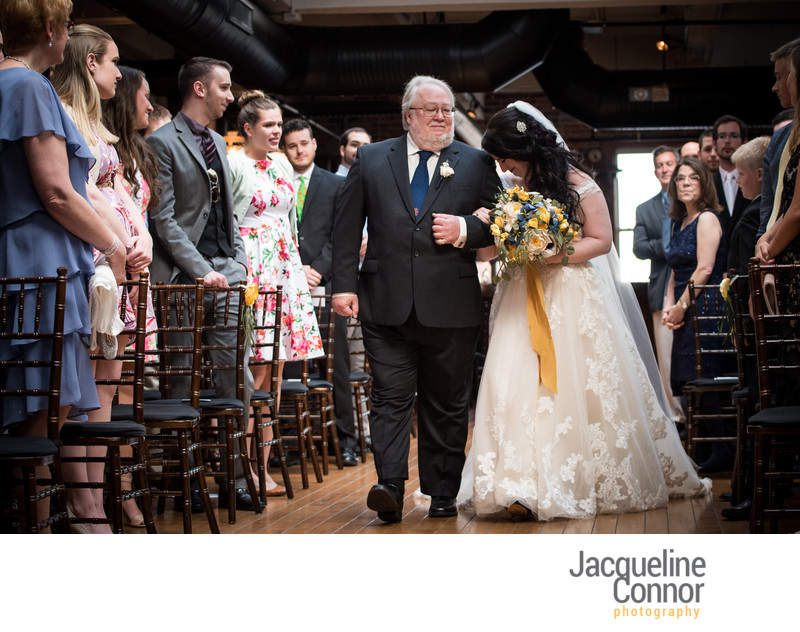 Enjoy Yourself
Do this: enjoy your wedding day
Not that: get so caught up in everything that you don't have a chance to take it all in

While I am what my husband lovingly refers to as a "type AAA personality", I was completely determined to enjoy our wedding day. It is so easy to get caught up in all of the little things, so much that you don't take a second to appreciate all that is happening around you.

It is so hard to get everyone you love, in one place, all celebrating together. Enjoy every minute of it. Walking to the end of that aisle, and seeing everyone that I love so dearly looking back at me is a moment I will never forget. My husband's face at the end of that aisle will forever be engrained in my mind.

We danced the entire night, so much so that I was too sore to walk the next day. I had to skip my family's trip to the falls. I would not have made it out of the car.
We danced, we laughed, we celebrated with people we had not seen in ages. I cannot even tell you what the colors of our napkins were (I think they were white? Maybe Ivory?), but I can tell you exactly what it felt like to be there. All of those things I stressed about (is that wood stain the exact same as the rest?) did not matter one bit. I got to marry the love of my life, and celebrate with the people we care for the most.

It's all a blurry dream, but a damn happy one. And we are forever grateful to have those images to document it.
A Thank You to our Vendors:
We could not have made better choices with our vendors, they were all spectacular and helped make our wedding day perfect.

Susan Stripling - Photography
Hotel at the Lafayette, Pan-American Rooms - Courtyard room/ceremony, Greenhouse Room/reception
Mike at Toy Brothers - DJ
Salon Elizabeth - Hair and Makeup
B in a Bonnet - Custom Accessories
Maggie Sottero via Bridal Chateau - Dress