The Experience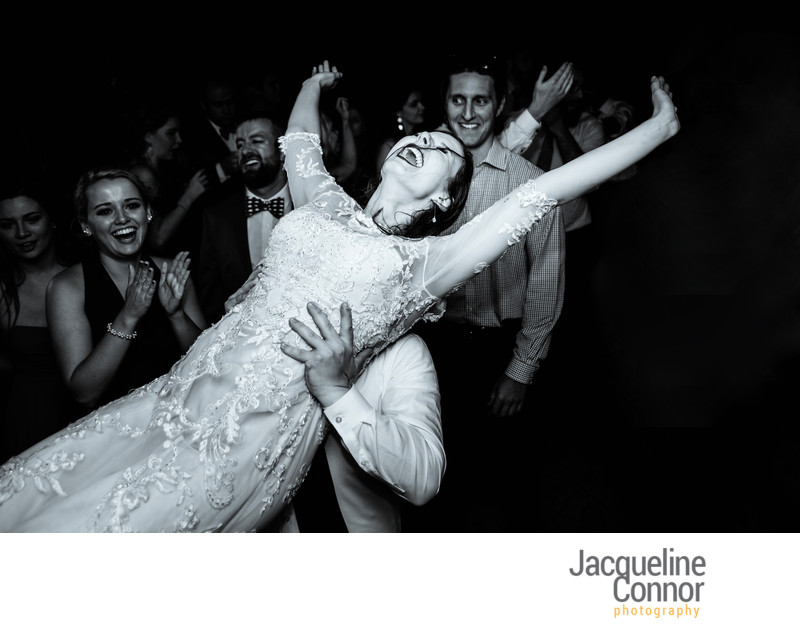 So this crazy wonderful moment happened to you, you decided to marry your best friend. Now what? All of a sudden you have piles of magazines and that person you talked to once at a bar is asking where their invitation is. In all of this craziness, you need to find a photographer. But doesn't that mean spending most of your day reenacting the same photos you see all over the internet? Isn't it tons of cheesiness or those awkward senior photos we all day that looked nothing like us?
Well, sometimes it is. But I don't want it to be like that for you.
Your wedding day is this single day (or sometimes a few) that is jam-packed with emotions and all of these life-altering changes. It's likely the one time in your life that you will have all of the people you love the most in one place. It's this day that you spend months and years planning, but it flies by in a second.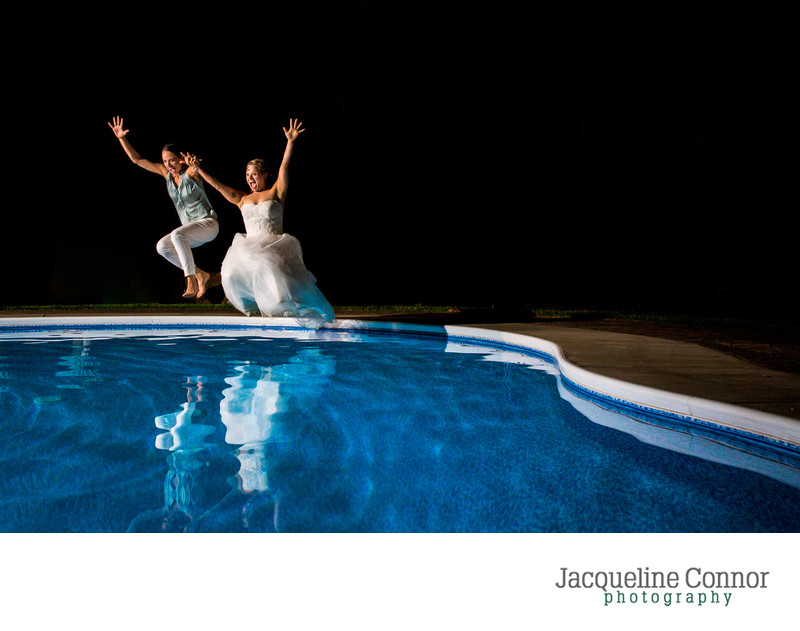 I want you to be able to enjoy that. To dance with your best friend, to take that inward breath right before you walk down the aisle, and to celebrate with your favorite humans when you are finally freaking married. Even better, I want you to live in every moment of that while having it documented so you can relive it over and over again.
The way that your best friend looks on as you say your vows or the beaming smiles you exchange with your partner(s) while the chaos of the day is happening around you. The happy dance back down the aisle or your brothers dance move that means he should be switching to drinking water.

Those are the images that will matter to you because those are the photos that only you can have.
So what does this actually mean for your wedding day? This means getting to the root of what you actually want. We will go through how you would love your wedding day to actually be, not what it "should be" according to the internet/your-friend-that-was-married-once/that-aunt-that-won't-stop-calling. From there, we will work to have your wedding photos be an honest representation of who you are together.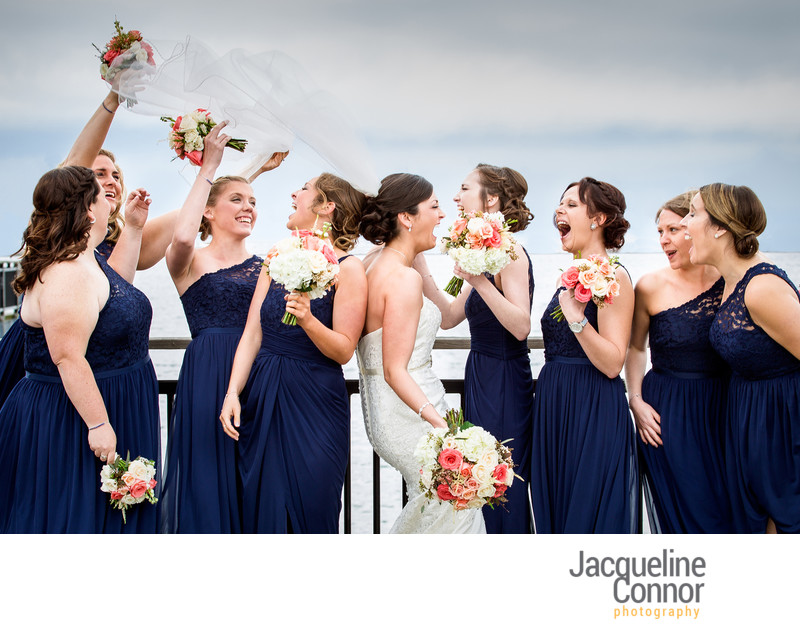 Just know from the get-go that anything is okay, and there is no need to hold back. This means crowd-surfing couples, emotional tears, and hysterical laughter, eagerly searching downtown Buffalo for tequila shots, making a stop at home for photos with your fur/feather/scaled children. However, you want to show your love, and quiet moments with dear humans, I'm in.
I will never judge your style of celebrating. I don't care what a wedding "should be"; I will work with you organically to photograph how your wedding actually is. I want you to look at your photos and go "holy sh*t, that's me."
Okay cool, so our photos will feel like us. What is working with you actually like?
It's the absolute worst, you won't spend all day laughing at all, and I'm a plethora of bad jokes. Kidding (well, about everything but the jokes).
The entire day is about you, and getting what you both want. It's not about walking through and fitting you into countless archetypes of what wedding photos should look like. It's not those painfully awkward prom photos that still line our parents' walls or those wedding photos you see all over social media that you cannot imagine yourself in.
It ends up being you enjoying your day, and occasionally being put into vague poses, pretty light and letting you be yourselves. Your photos will show the way your partner's nose crinkles up when they laugh for real (we all know the fake laugh from the real one), or the way you roll your eyes and snort at their terrible jokes.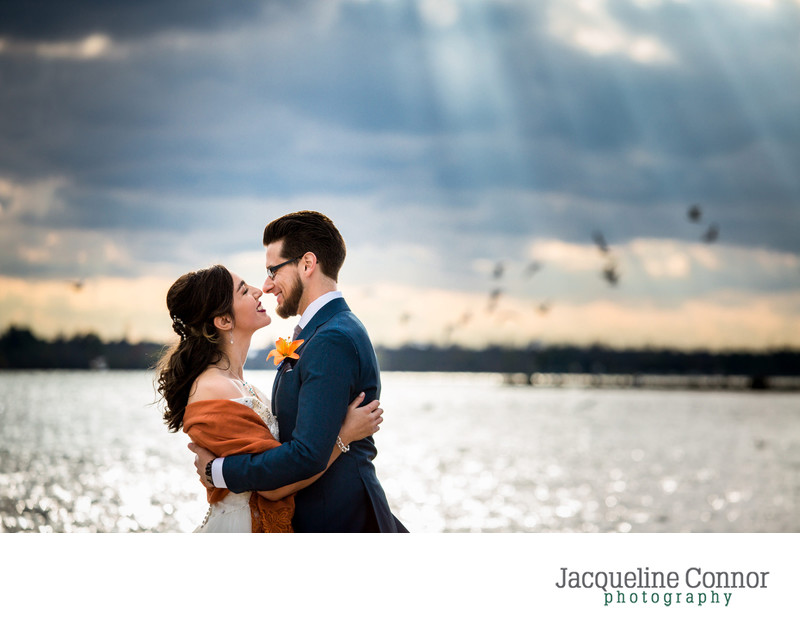 Beyond the photo part, you'll be treated as if you were my own family (the ones I love too, not even the "holiday" family). I work dozens of weddings a year, and you really only plan one, so always feel free to use me as a resource. That can be helping you construct the perfect timeline over coffee, or sewing your bridesmaid into their dress (those damn hooks always break). It can mean enabling you to feel safe in doing whatever offbeat wedding decision you like (I promise to be super excited about it, even if your grumpy aunt isn't), or being your advocate/buffer on your wedding day when that same aunt is driving you bonkers (code words are essential, we will find one for you).
Weddings can be wholly stressful and overwhelming. It's a whole bunch of very coordinated chaos that turns into a monumental day in your lives. Let me be the Dumbledore to your Harry and guide you through photo part of the day, so you don't even have to think about it and can get back to your party.
You won't have to think about what the photos will look like if it rains (or snows, this is Western NY after all). You don't even have to worry about that beautiful piece of architecture you had in mind for your photos that is suddenly back under construction (looking at you Buffalo). Whether it's picking out the locations for your portraits, or herding together your crazy family into a single photo, or parsing out complicated familial dynamics, or deciding if you want a first look, I'm here.
You don't have to fit your wedding day into making your wedding photos. We will fit the photos into your wedding day; however, you want them to be.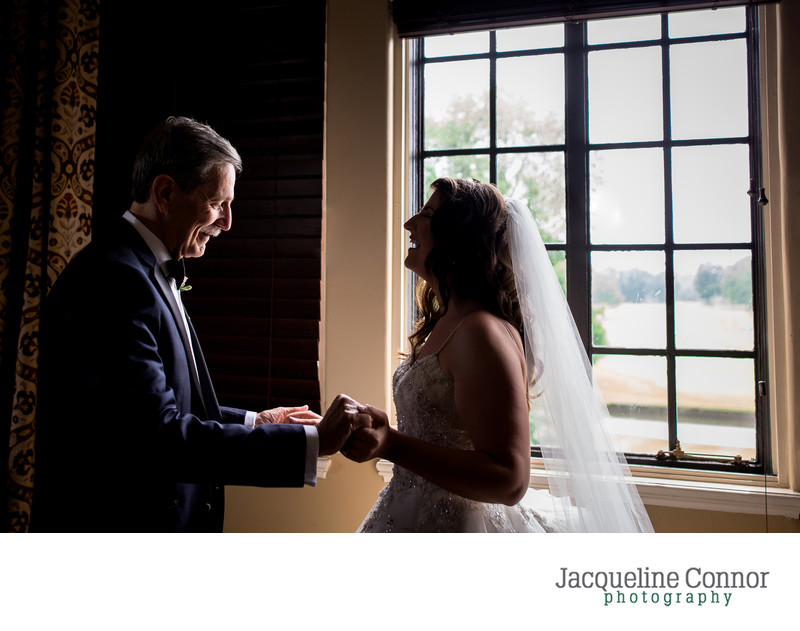 Frequently Asked Questions
How do you work with us on the day of our wedding?
Your wedding day is exactly that - your day. After understanding exactly what you are looking for out of your images via our wedding day timeline, I will work within your day in a way that does not diminish from the celebration. Outside of family formals, which I take complete direction of to let your family get back to the party as soon possible (both to our and their excitement), I blend into the day so you can just enjoy it. The most directing you will see will be to set you up in the best lighting situations possible, after that it is just about enjoying each other and letting those moments unfold. "I hardly even knew you were there photographing that!" is the best compliment I can receive.
What does "full-day coverage" mean?
Instead of stressing out about exact hours (it stresses me out, just as much as it would you), I do full-day coverage. Every day is unique, and I treat it as such. Wedding photographs usually begin in the last 2-3 hours of prep, and continues until your reception starts to wind down. Whatever happens in between is covered, from details at the beginning of the day to crazy (most likely intoxicated) dance moves from your one friend on the dance floor.
Can you help at all within the planning process?
Absolutely! Working in such a tight-knit industry leaves other vendors like co-workers. I am happy to recommend some incredible people to add to the team that will help make your wedding dreams a reality. Any photography-related questions you have (trust me, no matter what you have to ask, I've been asked weirder) are just an emailed answer away.
How many photographers would be on our wedding day? Do we need a second photographer?
My starting collection features myself as the sole photographer for your wedding day. Whether your wedding day coverage would require a second shooter to execute the collection you desire, or I would be able to accomplish it own my own completely depends on what you are looking for. See an in-depth breakdown on selecting a second photographer here.
Can we provide you with a list of requested shots?
With every wedding, I aim to make the most creative and beautiful set of storytelling images that fully encompass what your day was. With the addition of a specific shot list, I would not be able to. While I am happy to include a few requests and look over the style of the images you like, I cannot work off of huge, specific must-have lists that are featured on many wedding blogs. While these blogs have good intentions, lists like that limit the flow of the day. Your images will be far more beautiful, and unique to you if you allow the day to unfold naturally. Let's make something future couples will want to pin for their own wedding.
Do you work with LGBTQ+ couples?
Absolutely yes. I am so deeply sorry this is a question that even has to be asked. I care about all of my couples equally, regardless of who they are marrying. You are not only welcomed here, but your are loved, accepted and catered to. All of the vendors on my lists are also LGBTQ+ friendly.